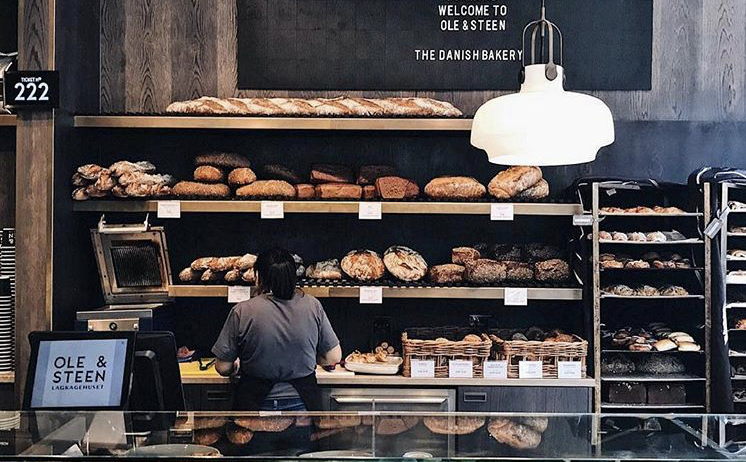 This week saw the launch of our client's latest store on Hampstead High Street. The new bakery is the beginning of an accelerated openings programme in London for Ole & Steen to increase their UK portfolio by almost 50% in 2021. This heralds an ambitious three-year programme of new openings across the capital.
Having opened their debut store in the UK in December 2016 at St James' Market, London, the all-day bakery brand has proved a hugely popular addition to the capital's hospitality market.
The latest addition is a 2,440 sq. ft. ground-floor with basement unit which has been secured on a 10-year lease and sits in prime position on Hampstead High Street, within a few metres of Hampstead Underground Station. The Danish bakery will serve high-quality artisan products and an all-day menu complemented by drinks and specialty coffee from their own roastery.
The fit-out of this latest store has been project managed by Steve Challis, Consultant for RAB Retail. Commenting on the opening, Steve said, "This was a complex project to execute during lockdown and a number of issues arose importing goods from Europe. However, all challenges were overcome with a proactive approach by all parties. Considering the ongoing situation, it's excellent that the store has been delivered on time in just 7 weeks, below budget and to such a high-quality specification. This is the first new opening of 2021 but we're looking forward to further store opening throughout the year."
Our team is looking to deliver a further 5-10 new stores for Ole & Steen over the next year and require units in busy retail locations across London, London villages and strong commuter towns. We are looking for A1 use sites of between 1500 and 3000 sq. ft., preferably in prominent corner locations with external seating.
Commenting on the latest store, Lee Nixon, Managing Director of Ole & Steen said, "We're very excited to be bringing Ole & Steen to Hampstead as we know that many of our customers already live in that part of the city.  It's important to us that we continue to expand after the pandemic, providing new jobs across the capital as well as introducing more people to our offer.  In 2021 alone, we hope to create almost 100 new roles, from bakery to barista.  We know that many of our customers have their favourite loaves, and of course the cinnamon social has become legendary, but we continue to innovate so that we can stay fresh and vibrant while offering customers the quality they expect from Ole & Steen."
To find out more about Ole & Steen please visit their website, download their requirement flyer or contact Richard Brown (07766 162 777) or Julia Poulson (07733 003775) with details of any suitable opportunities.